Minister Olivia "Babsy" Grange said; "Shame on you, I never expected this from you," as she stared at Lisa Hanna who sat only smiling on the opposition side.
Minister Lisa Hanna on Tuesday, April 4, 2017, literally shocked the members of the Jamaica Labour Party when she accused Minister Olivia "Babsy" Grange of corruption.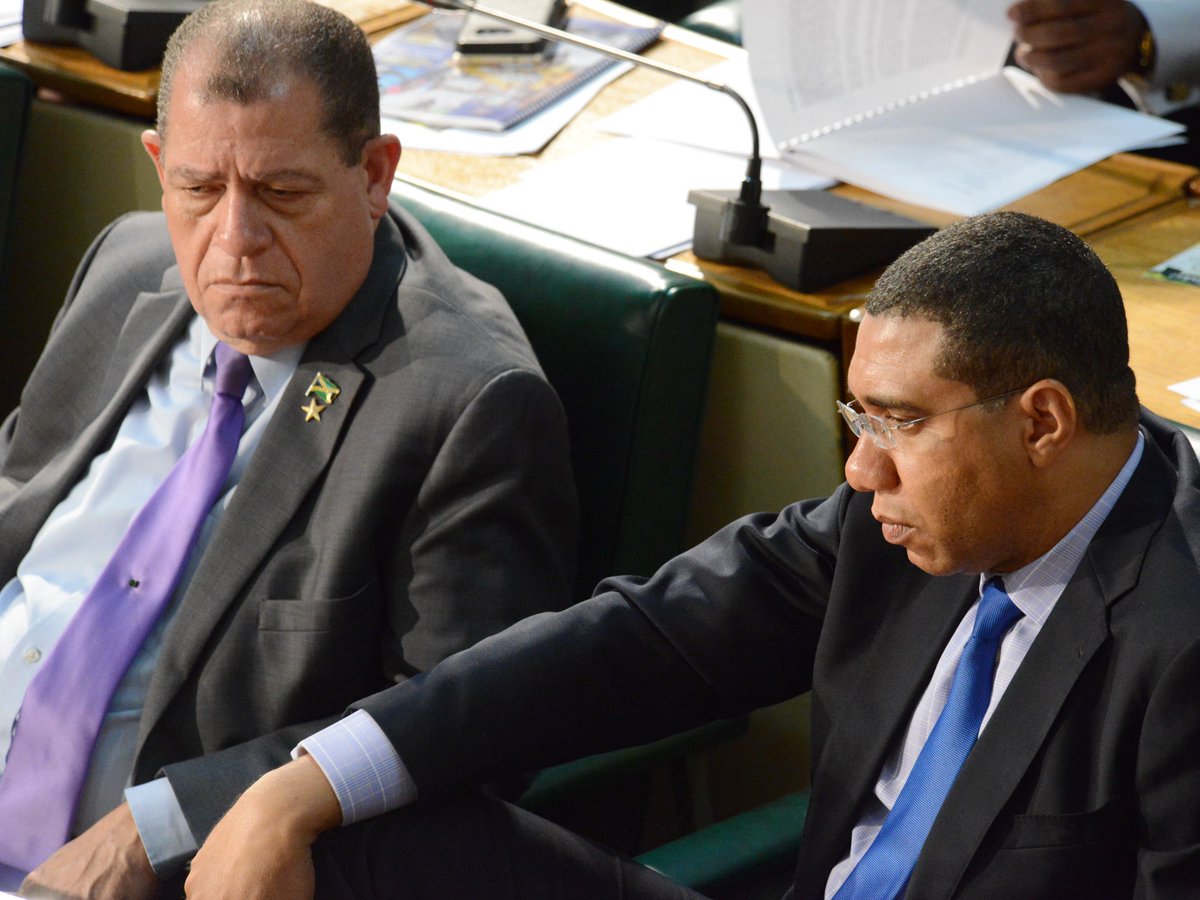 Prime Minister Andrew Holness along with the other members of his government sat in complete silence as Minister Lisa Hanna made her claim that there was a "culture of extravagance" at the Culture Ministry. Minister Hanna also told Prime Minister Andrew Holness that he could not afford to take another blow to his integrity after his 1.5 million promised failed.
Lisa Hanna is the former Minister of Culture, but she had reasons for eyebrows to be raised in parliament when she delivered a body blow speech to the Jamaica Labour Party government. Minister Hanna presented a detailed report that made suggestions of nepotism and corruption at the Ministry of Culture, which Minister Grange is currently heading.
Minister Hanna detailed report to Parliament was that;
 $440 million that was allocated to the Ministry of Culture by the Government for Emancipation and Heritage Week celebrations this year, only $60 million has been earmarked for the Jamaica Cultural Development Commission (JCDC).

The $60-million allocation to the JCDC was minuscule and was outlined in the Budget for the promotion of cultural activities, at the local and national levels, to unearth talent in the performing and visual arts.

The JCDC's specific remit, a separate body called the Jamaica 55 Secretariat was established by Grange to do the JCDC's job, which is to plan and execute the festivities. Jamaica 55 will be launched today at Jamaica House.




I regret to report, Mr Speaker, that this is not the first. A pattern seems to be developing in this ministry, whereby established state agencies are bypassed in favour of personal consultants.

Mr Speaker, an external consultant was contracted in the words of his proposal letter to 'act as artistic director' for the 2016 Grand Gala. That letter is dated May 27, 2016, and by June 22, the contract was awarded lock, stock and barrel.

The consultant's asking fee of $15 million was adopted without negotiation to design costumes, for choreography, team leadership and to provide production assistants, all of which, according to Hanna, could have easily been done by the JCDC at no cost.

Information received showed that the ministry provided the production assistants promised by the consultant, but not delivered, and then arranged for the JCDC to pay an additional $2 million for these said assistants.

A business partner of the 'artistic director' in question is the current minister's paid senior adviser, whose responsibilities include the Jamaica 55 project.
After Minister Hanna's report finance Minister Audley Shaw could be heard saying;
Garbage! You're talking nonsense.
Based on the seriousness of the allegations made against Minister Grange, she was allowed to address those issues on Wednesday, April 5, 2017.
Wednesday afternoon the Culture Minister Olivia Grange rose in Parliament accusing opposition Minister Lisa Hanna of telling a lie yesterday when she suggested that $380 million for Jamaica's independence activities this year was "corruptly" used.
Minister Grange said;
Some serious accusations were made yesterday that have damaged some individuals. The money has been programmed in the JCDC's budget.  I do not want to disrespect her, I thought the  differences between us in the past had been put to rest. I did not select the unnamed consultant and neither does the individual work for me.
Minister Olivia "Babsy" Grange further rejected the assertion that the organisation was being bypassed for personal assistants and the allegation that she employed as her senior adviser, the partner in a company (JAMBIZ) that involved an artistic director who Minister Hanna claims pocketed $15 million for work on the 2016 grand gala that the JCDC could have done.
During Minister Grange speech, Government MPs who were silent yesterday poked fun at Minister Hanna.
Minister Grange levelled claims of her own, too, saying;
Minister Hanna employed an individual from the same company for the 2012 gala whose reputation she is now trying to destroy.

What about the  Jamaica 50 pins and the missing equipment that were purchased under Minister

Hanna leadership of the ministry.

Minister Hanna is "snooping around state agencies" and "badgering staff for information".

In culture, we must never attempt create a divide.

Some serious allegations were made that have damaged a number of individuals. 

Shame on you, I never expected this from you.
Minister Hanna attempted to respond, but government members, including Clarendon Central representative Mike Henry, protested saying;
She should only be allowed to make an apology.
However, parliamentary rules allow for the opposition to respond to a ministerial statement, said Speaker Pearnel Charles.
Minister Hanna then rose saying that  Minister Grange did not address my main concerns about nepotism. Minister Hanna then pointed to the $15 million contract that was allegedly given to the artistic director and was paid out before the work was done.
 Hanna concluded stating;
I stand by what I say and I would urge the minister, rather than getting emotional and frantic to look at the evidence.
Minister Grange wanted to respond, but Prime Minister Andrew Holness shouted at her not to.
Before being cut short by the speaker Grange said:
At no time was this individual paid $15 million up front.
The Speaker then said he could not allow further interventions on the issue as it was going beyond a statement. He also suggested that Grange's Sectoral Debate presentation scheduled for next month be brought forward to allow her to provide additional explanations.
Read more about this story in The Gleaner.