Damian Marley recently transformed a  77,000-square-foot state prison into a marijuana cultivation and processing facility in central California.
Marijuana is the best friend for Rastafarians and Damian "Junior Gong" Marley took a high draw when he decided to enter a partnership with Ocean Grown Extracts (OGE), to cultivate the herb.
Damian decision to roll with the idea of a cannabis farm might have been prompted by a recreational cannabis shop that had been redesigned in his image. The shop that was previously called Tru Cannabis Mile High, is now known as Damian Marley's Stony Hill and is located just across the parking lot from the home of the Super Bowl champion Denver Broncos.
Damian does not actually own the Denver dispensary that shares his name because of ownership restrictions that are written into Colorado's marijuana regulations, but with the great surname of Marley, he will aid in the marketing of the product.
With all the international smoke of news about Damian Marley's  purchase of a state prison to farm marijuana came the sniff of news that he will be featured on High Times magazine for their June 2017 issue. This is not the first time he will be appearing on the cover of the High Times magazine. 
Damian was featured on the cover of High Times in August 2010 with US rapper NAS and in June 2006.
See pictures of all three covers of High Times with Damian below: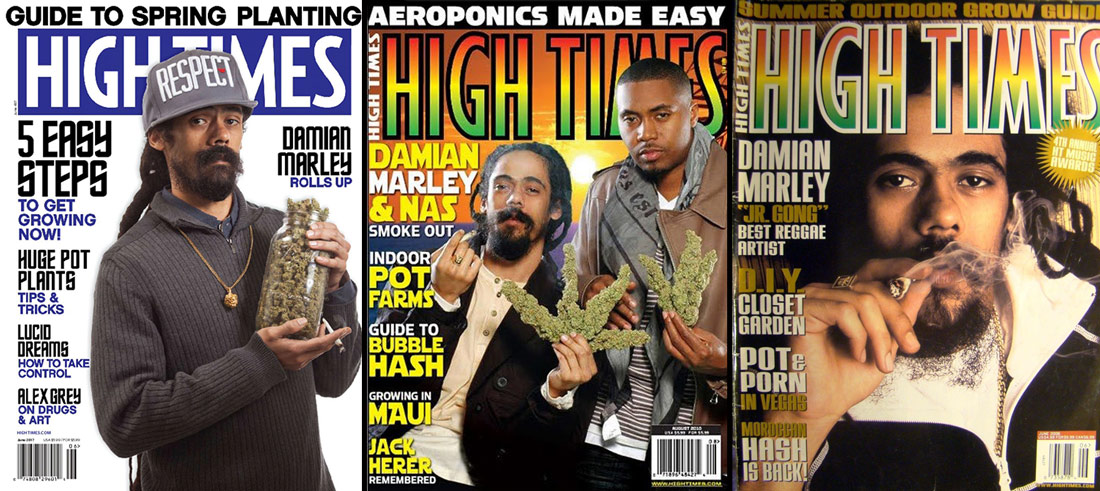 On April 21st Damian Marley had headline the High Times US Cannabis Cup SoCal, which took place at the National Orange Show in San Bernardino, CA. 
The High Times  June 2017 issue will have five pages of information about Damian Marley that ranges from marijuana's cultivation, legalization of marijuana, OG Kush, and the best place in Jamaica to chill out and puff on a  ganja spliff.
Look out for Damian "Junior Gong" Marley's album entitled "Stony Hill," which is expected to be released this year's summer.